Traditional healer and elder Minnie Awashish, larger than life, gazes over the waiting room of Mistissini's new Community Miyupimaatisin Centre (CMC); Ronnie Loon, another elder, is mending his nets. The two pillars of the community are featured prominently as part of a mural spanning the rooms four walls of the new building, to be opened toward the end of 2011. The mural, which was painted over a three-week period last summer, also includes images of a young boy with his first kill, a girl at her walking out ceremony, a group of hockey players, and Canada geese in flight.
The idea for the mural evolved along with plans for the new CMC. Former Cree Health Board employee Marie-Hélène Gilbert, conceived of the project, engaged professional artists to help oversee the painting, and spearheaded a publicity campaign that included everything from radio and newspaper announcements to posters to simply stopping people on the street to invite them to participate.
The drive for community involvement was a success. "At our first meeting to discuss the mural, people came with photos, drawings and ideas of what it should contain," says Catherine Quinn, the former activity team leader for Mistissini's Headstart program who worked closely with Gilbert on the project. Two professional mural artists, Sophie Boivin and Fanny Galarneau, were brought in to share their experience and provide artistic leadership. "We met with youth, elders, anyone who wanted to be involved in the project, to learn what they wanted to represent," says Boivin, whose company So-Art has done a number of similar murals." A theme soon emerged: miyupimaatisiin and the importance of traditional Cree culture.
And so the artists were sent to the drawing board. "Based on this first meeting, we made a preliminary sketch, and then met with people again to give them a chance to change or add ideas," says Galarneau. "It was a really collective process." Because there were few youth at the first meeting, the second consultation explicitly sought out their perspective. "Once they became involved, the youth participants really wanted to include a statement about sustainable environments, especially connected to uranium mining," says Quinn. The final sketch that was approved by community members combined the ideas from first and second meetings, and the mural includes allusions to the need to protect the environment, especially in the representation of a yellow rock embedded in a mountain but bleeding into lakewaters.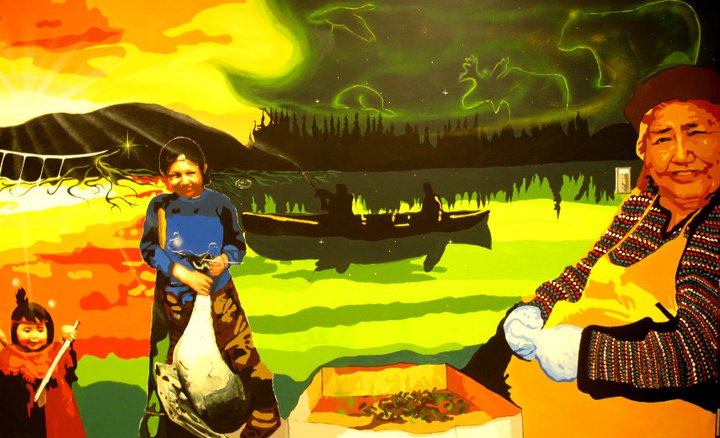 The consultations took one week, with the artists producing a final sketch of the entire mural, and devising a colour plan. Then Boivin and Galaraneau worked with Mistissini's Daisy Spencer to transfer the outlines of the images onto to the waiting room's walls. Once that job was completed, the painters arrived – and in huge numbers. A total of 120 people helped paint the mural: everyone from children to elders, from those confident with a brush in their hands to those who had never painted before. A special section was set aside where young children could dab freely while their parents worked on more complex images. "On the last day a man came in and someone asked him if he wanted to do some artwork," recalls Quinn. "He said 'No, I can't paint, I'm terrible at it.' He had not painted since he was a child, before being sent to a residential school. But we convinced him to start, he painted a little part, and then wanted to continue. It was very positive experience for him and for everyone."
These positive experiences have been translated into the powerful images now gracing the CMC's walls. "People in Mistissini are motivated and inspired. They have important things to say," says Boivin, identifying the most striking aspect of her own experience on the project. As Galarneau adds, "The community's involvement was amazing. We cherished it a lot." The art resulting from this inspiration and motivation will also be cherished by community members for its beauty and its messages of miyupimaatisiin, honouring Cree values and respecting the environment. And, of course, for the memories of the pleasure of creating it.
Slideshow goes here