A good diet, a healthy lifestyle, and a harmonious relationship with the environment: traditionally, the people of Eeyou Istchee have enjoyed all three. But environments have changed, especially with the arrival of natural resources development projects, and these changes have been accompanied by shifts in diets and lifestyles – all factors that make a difference to one's physical health.
But just how are these factors related? Since 2005 the Nituuchischaayihtitaau Aschii Environmental Health project, whose Cree name translates as "learn about us and our earth," has been developing a comprehensive picture of health in Cree communities. The study, led Éric Dewailly, Director of the Public Health Research Unit of the Laval University Medical Centre, includes researchers from Cree Public Health, McGill University in Montreal, and McMaster in Hamilton, as well as almost 1400 participants. And it aims to change the way we understand the relationships between health and the environment.
The story began in 2002, when the people in Oujé-Bougoumou, worried about the health impact of trailings from a nearby mining site, requested an environmental health study; Nemaska was studied at the same time as a control community. The process prompted other communities to consider some of the same questions that had motivate the people of Oujé-Bougoumou. "We were concerned to know what levels of lead and mercury people had in their bodies, and we were also interested in other contaminants, like PCBs, that have appeared in high concentrations among Inuit and other northern people eating traditional food," explains Elizabeth Robinson, a physician with Cree Public Health. And so the Nituuchischaayihtitaau Aschii project was developed, first as a pilot in Mistissini in 2005, then in Eastmain and Wemindji in 2007, Waskaganish and Chisasibi in 2008, and finally Whapmagoostui and Waswanipi in 2009.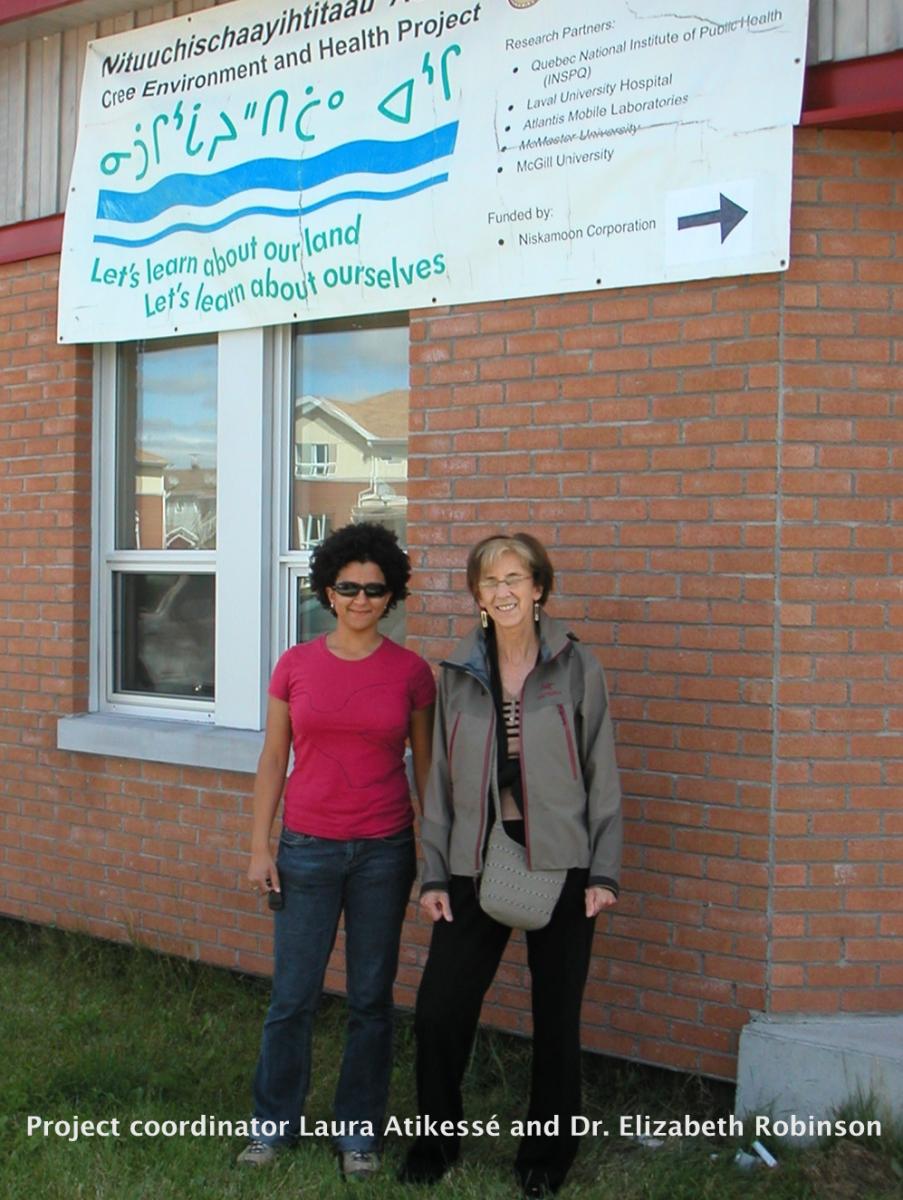 This past summer Laura Atikessé coordinated the survey in these final two communities, meeting first with Band Councils to explain the process and receive their support, and then with other community members to arrange the survey. "We generated a lot of publicity to involve the communities," she says. "And people were very interested in participating, because the survey gathered information about nutrition, physical activities and contaminants that will be useful for designing new programs for personal and community health." Robinson points to a telling example: "We already knew that people were drinking a lot of soft drinks but this study showed just what an incredible number of them people were consuming," she says. "And this information was really helpful for our 'Drop-the-Pop' program."
Additional helpful and reassuring information concerns the question of mercury levels: "We've learned that mercury levels are definitely lower than in the mid-1990s, when people were last tested," says Robinson. Traditional food consumption was another major focus, especially as such foods, while subject to environmental contaminants, are otherwise very healthy. "In looking at the pros and cons of traditional food, we found that contamination was not a serious concern, which is very good news," says Robinson. "We have bigger problems with issues like obesity and diabetes, so in fact if people were eating more traditional food, their diets would probably be healthier for them." However, the project did not test contaminant levels in common food animals, such as caribou, moose and geese, which is a missing link in knowledge, according to Robinson. "But this data can still be acquired in the future. I think it would be very useful."
As it stands, the research has generated more data than can be digested easily. The final stages of the project involve completing the tests for the 2009 study and presenting the results to those communities, sharing the final overall reports, and comparing results between communities and with results from similar tests with other First Nations across North America. In addition, the results from the initial 2002 study in Oujé-Bougoumou and Nemaska must be integrated into the Nituuchischaayihtitaau Aschii database.
The Nituuchischaayihtitaau Aschii project will have a lasting effect. "This project has created tons of research material," says Robinson. "It's one thing to say a certain number of people have high mercury levels, but there are lots of other analyses that can be done to see if other factors are related – for instance, to see if people with mercury have higher blood pressure," says Robinson. "And this project will allow researchers to explore these different relationships." Ultimately, the knowledge gathered in the Nituuchischaayihtitaau Aschii database will help people to understand the relationships between nutrition, lifestyle, the environment and the health concerns of the people of Eeyou Istchee for many years to come.