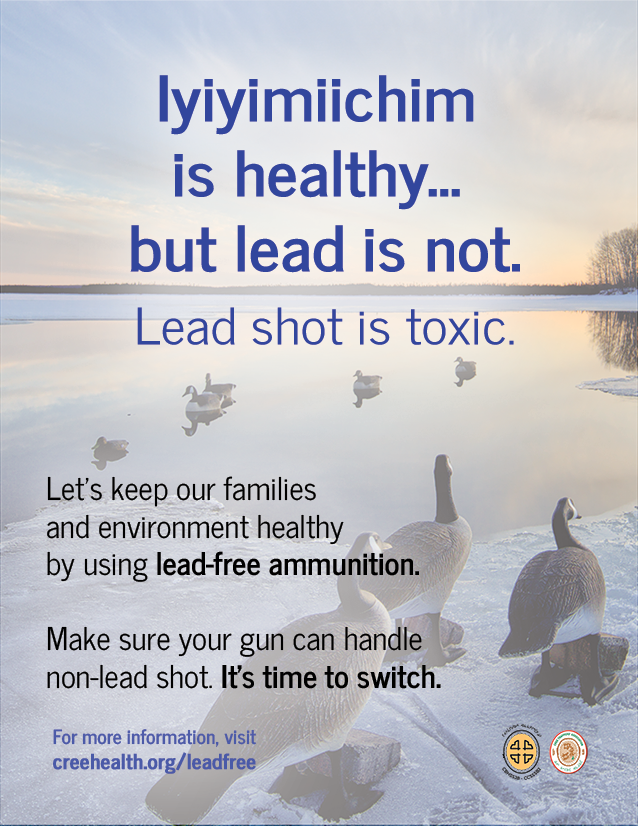 Most cartridges and bullets used for hunting in Eeyou Istchee are made with a metal called lead.  Lead is toxic, and for that reason, the government has banned its use in paint, gasoline, and water pipes. 
Even small amounts of lead can harm a child's development and behavior. Lead pellets and ammunition can also poison birds like geese and loons.
Studies have shown that some people in Eeyou Istchee have lead in their blood at levels higher than recommended (see page 22 in this document).
The CBHSSJB's Public Health Department is working with the Cree Trappers' Association and the Cree Nation Government to promote the use of alternative ammunition, like steel and copper.
Game meats and traditional foods are very healthy for adults and children. To be on the safe side, pregnant and breastfeeding women, babies and young children should avoid swallowing lead pellets and should eat parts of the meat that are furthest from the bullet or pellet wound.
In the news:
(April 19, 2018) Read the letter sent to the Minister of Environment and Climate Change calling for a ban on lead ammunition and fishing gear in Canada.
CBC.ca: Cree, Inuit groups join others in call to eliminate lead from ammunition, fishing tackle
Le Soleil (French-language): Chasse et pêche: front commun pour interdire le plomb
More information:
Fact sheet: protecting children from lead in bullets and shot (English version)
Feuille d'info: protéger les enfants du plomb dans les munitions (version française)
Pamphlet on lead (North Cree)
Pamphlet on lead (English)
More resources, including posters in Northern, Southern Inland and Southern Coastal Cree, can be found here.