Nutrition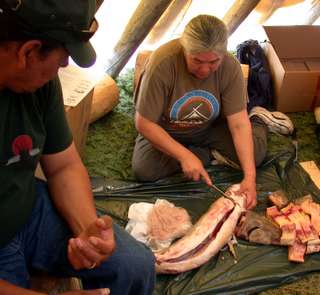 We can all make healthy choices every day, by choosing bush foods and healthy store bought foods.
See:
Resources
Building a Healthy Baby Food Guide
Community Stories
ᐋ ᑎᐹᒋᒧᓈᓂᐎᒡ
September 11 2017

On August 26th 2017, the Chisasibi Run was back for the fourth consecutive year. The event brought together 232 runners and walkers of all ages,...

Read More

April 21 2017

Cooking workshops have been running for 18 months from the kitchen of Chisasibi's MSDC, led by CBHSSJB nutritionist Audrée Gilbert. The aim is to...

Read More

February 28 2017

On January 17 and 18, the Cree Nation of Mistissini had the pleasure to welcome a team of researchers from four universities. Elders, healers,...

Read More
From The Library
ᒥᓯᓂᐦᐄᑭᓐᐦ
Health promotion poster for nutrition on Halloween.

Other pamphlets in this series: | Autres pamphlets dans la même série:
...

In this letter, the CNG and CBHSSJB call upon their departments, councils, committees and working groups, Band Offices, development corporations,...
Featured Resources
ᐅᓭᕗᓪ ᓕᓐᒃᔅ