Nutrition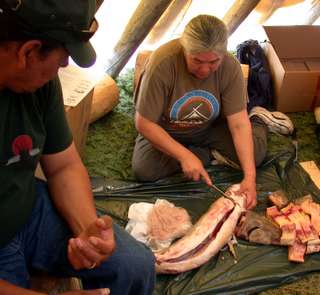 We can all make healthy choices every day, by choosing bush foods and healthy store bought foods.
See:
Resources
Building a Healthy Baby Food Guide
Community Stories
ᐋ ᑎᐹᒋᒧᓈᓂᐎᒡ
February 08 2017

On January 31-February 2, 2017, Chisasibi held a three day health event called "Masters of Our Own Health". The aim was to inform the Chisasibi...

Read More

January 27 2017

This week, the Cree Nation of Chisasibi is hosting "Masters of Our Own Health", a 3-day event giving community members a chance to learn about...

Read More

January 23 2017

On Tuesday, January 24th, Dr. Darlene Kitty and Bella Petawabano gave a presentation on Access to Nutritious Food in Eeyou Istchee at the Cree...

Read More
From The Library
ᒥᓯᓂᐦᐄᑭᓐᐦ
In this letter, the CNG and CBHSSJB call upon their departments, councils, committees and working groups, Band Offices, development corporations,...

These two PDF files, the Framework for Action and List of Suggested Actions, aim to improve access to nutritious food in Eeyou Istchee, and...

This PDF contains guidelines and tools to help organizations and...
Featured Resources
ᐅᓭᕗᓪ ᓕᓐᒃᔅ