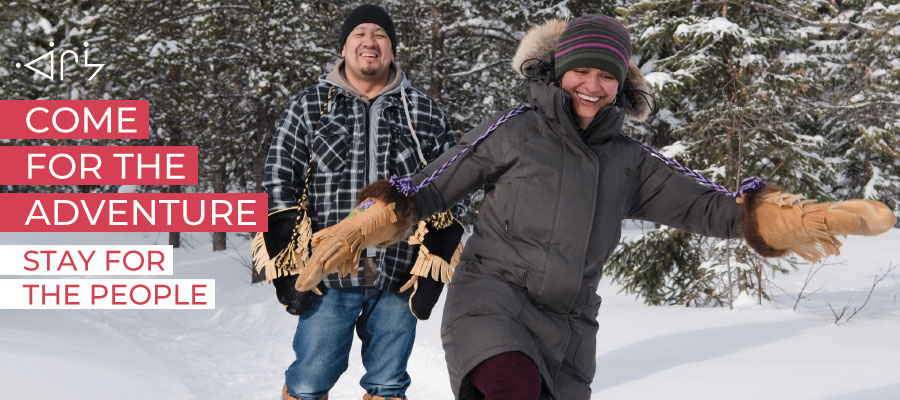 NOW HIRING!
WHAT WE DO
The CBHSSJB offers unique working conditions to allied health professionals who are open to the challenge of the north.  You must be dynamic, self-sufficient, team-spirited and open to Cree culture and the reality of northern life. Allied health professionals work within the Community Miyupimaatisiiun Centers (CMCs), and Multi-services Day Centres (MSDC), which are similar to a CSSS (Centre de santé et des services sociaux) environment elsewhere in Quebec.  There is a CMC and a MSDC in each of the 9 communities of Eeyou Istchee, offering a modern workplace and tools.
JOIN OUR TEAM!
This is a great opportunity for professionals who want to make a difference in our communities
We work with a community-based service model that focuses on the roles of paraprofessionals and family members as stakeholders
We provide support to children with language and communication problems
We work hand-in-hand with other Allied Health professionals to intervene in Cree language
We use an evidence-based culturally safe approach in our interventions and we put cultural safety into practice with our clients
If you want to meet new challenges while contributing to the development of a population, this job is for you!
BENEFITS AND INCENTIVES
Allied health professionals employed by the CBHSSJB are members of the CSN union. In addition to your salary we offer:
Furnished housing with no monthly rent (Electricity provided)
Paid moving and storage cost
Three or four annual paid round trips for you and your family to your original hiring location in Quebec.
Isolation + retention premiums 
RESPONSIBILITIES:
Assess and treat speech, language, swallowing and voice functions in people of all ages within the Cree territory of Eeyou-Istchee 
Clinical skills in the following areas are considered an asset:

Language delay/disorder (multilingual context)
Developmental disorders
Craniofacial
Stroke
Dysphagia
AAC

Provide coverage for several communities within Eeyou-Istchee
Work in collaboration with community partners (daycare workers, community health representatives, special needs educators, rehabilitation workers) and health professionals in order to provide culturally adapted best care for clients
Coach and train community members and healthcare professionals on prevention and promotion within speech-language therapy
EXPERIENCE/REQUIREMENTS
Master's Degree in Speech Language Therapy
Be a member and in good standing with l'Ordre des orthophonistes et audiologistes du Québec (OOAQ)
Experience in a remote area is an asset
Experience working with interpreters and assessing a non-standardized population using formal/informal tools
Knowledge/experience of Cree culture and language and social/health issues in Eeyou Istchee or of Speech-Language practices within an indigenous context 
KNOWLEDGE AND ABILITIES
Proficient in English
High degree of autonomy in the workplace while being able to work within a team
Strong interpersonal skills
Culturally sensitivity
Ability to adapt rapidly to change 
CONTACT A RECRUITER
All applicants must be Canadian citizens or have a Canadian work permit. Professionals must be licensed to practice in Québec. The Cree Board of Health and Social Services of James Bay aims to hire qualified Cree beneficiaries of the JBNQA, whenever possible. English is the working language of the CBHSSJB.
To apply, send your CV and a cover letter to jobs.reg18@ssss.gouv.qc.ca or fax 1-819-855-2680. For contact a recruiter directly, please call 1-877-562-2733.