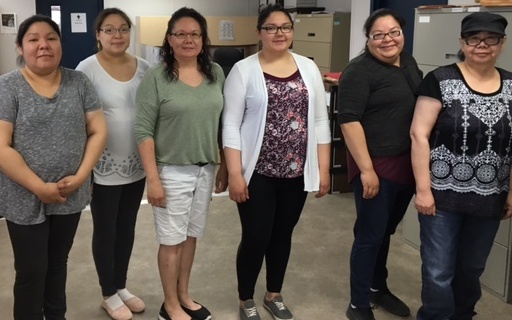 The CNIHB Team: Margaret Sam, Bessie-Jane Sam, Nora Bobbish, Rachel Chiskamish, Margaret Dick, Edith Snowboy. Missing: Angela Jonah and Michele Gagnon.
Introduction
Cree people, like all Quebec residents, have access to free health care through the Health Insurance Plan administered by the Régie de l'assurance maladie du Québec. Anyone with a valid "carte soleil" (RAMQ card) can access these services in any CBHSSJB clinic or hospital.
People who are registered beneficiaries of the James Bay and Northern Quebec Agreement (JBNQA) and who are living in the Cree Territory have access to some additional medical benefits in addition to those provided by the Quebec Health Insurance Plan. These are called "non-insured" benefits and they can be accessed through the Cree Non-Insured Health Benefits Program (CNIHB) of the Cree Health Board.
Who is eligible?
All Registered Cree Beneficiaries under the JBNQA residing in the Cree Territory (Eeyou Istchee) are eligible to receive these benefits.
For more information on eligibility, please call the NIHB Department or your local Cree Nation office.
Benefits and services
The benefits and services covered by CNIHB are:
Prescription drugs
Over-the-counter drugs and proprietary medicines
Medical supplies
Transportation for health reasons (including authorized escorts, interpretation services, meals and lodging)
Vision care, including eyeglasses and contact lenses where medically necessary
Dental care and orthodontics
Hearing aids
Emergency mental health services (short-term mental health services)
Reimbursement of dispensing fees
Repatriation of the deceased (see also "Caring for the Late Departed")
In certain circumstances, other benefits available to Quebec residents will be included as benefits under the CNIHB Program, even though Government of Canada guidelines are generally followed. These benefits may be prescribed by another medical practitioner but still must be approved by a CBHSSJB physician or medical professional.
NEW: Cree beneficiaries in Montreal can pick up their prescription medication for free from the Pharmaprix at Alexis Nihon plaza at Atwater metro. Present your status card or Band card, RAMQ card, and your prescription at the pharmacy counter. At other pharmacies you will be required to pay and be reimbursed later.
Services not covered
Services/treatments not covered by Cree NIHB are:
Private or semi-private room requested by the patient (client)
Surgery and other care for purely aesthetic reasons
Pharmaceutical, dietetic or cosmetic products not insured within Quebec's health insurance regime OR which are not on Health Canada's NIHB Program list of recognized benefits
Treatment received outside of Canada if it has not been pre-approved by the Régie de l'assurance maladie du Québec (RAMQ)
Services provided by a private clinic
Services not prescribed by a CBHSSJB physician or health professional
Contact
Cree Non-Insured Health Benefits Department
CBHSSJB
PO Box 250, Chisasibi, QC  J0M 1E0
Email: cree.nihb.reg18@ssss.gouv.qc.ca
Phone (direct line): 819-855-2860
Fax: 819-855-2225
Margaret Sam, Administrative Technician, Phone 819-855-2744, extension 22109
Nora Bobbish, Coordinator, extension 22136
CNIHB Dental Services Helpline
Michèle Gagnon, Dental Advisor with CNIHB, is available to help JBNQA beneficiaries and dental suppliers with issues related to accessing dental care outside the Territory or from visiting specialists.
Phone: 514-229-9233
Email: michele.gagnon.reg18@ssss.gouv.qc.ca
Mailing address:
Michèle Gagnon
Wiichihiituwin (CPS)
6th Floor
1055, boulevard René-Lévesque Est
Montreal, QC H2L 4S5