What is rabbit fever?
Rabbit fever is a potentially serious illness that occurs naturally in the bush. It is caused by the bacterium Francisella tularensis found in animals (especially hares, beavers, muskrats and other small rodents. The bacterium can also be found in ticks and deer flies).
What can I do to prevent becoming infected with rabbit fever?
Rabbit fever occurs naturally in Eeyou Istchee. 
Use care and wear gloves when handling sick or dead animals. 
Be sure to cook your eeyou meechum thoroughly and that your water is from a safe source. 
Try to avoid eating sick-looking kills.
What do I look for to see if an animal has rabbit fever?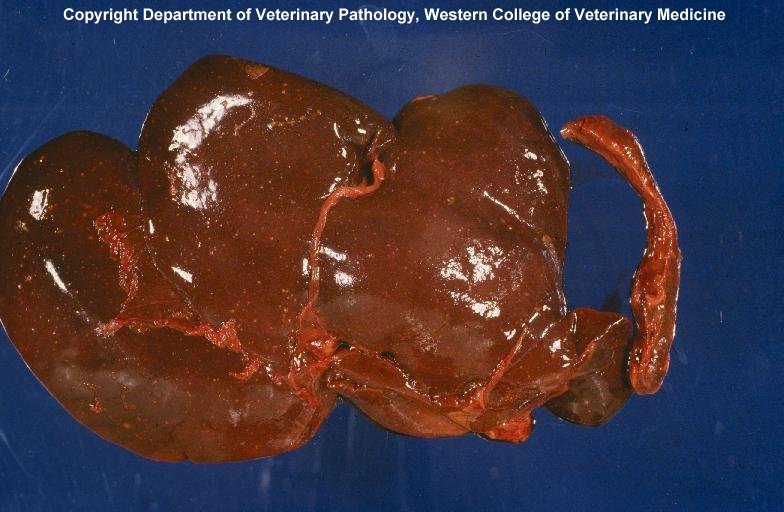 Small white dots of necrosis on the liver of this beaver are typical of rabbit fever.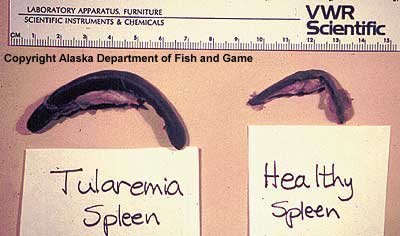 Enlargement of the spleen is typically observed in animals with rabbit fever.
What are the symptoms of rabbit fever?
Symptoms of rabbit fever may include:
Sudden fever
Chills
Headaches
Diarrhea
Muscle aches
Joint pain
Dry cough
Progressive weakness
People can also develop pneumonia with chest pain, cough, and difficulty breathing.
Other symptoms of rabbit fever depend on how a person was exposed to the rabbit fever bacteria. These symptoms can include ulcers on the skin or mouth, swollen and painful lymph glands, swollen and painful eyes, and a sore throat.
How does rabbit fever spread?
People can get rabbit fever many different ways:
Handling infected animal carcasses
Eating or drinking contaminated food or water
Being bitten by an infected tick, deerfly or other insect
Breathing in the bacteria, F. tularensis
Rabbit fever is not known to be spread from person to person. People who have rabbit fever do not need to be isolated. People who have been exposed to the rabbit fever bacteria should be treated as soon as possible. The disease can be fatal if it is not treated with the right antibiotics.
How soon do infected people get sick?
Symptoms usually appear 3 to 5 days after exposure to the bacteria, but can take as long as 14 days.
What should I do if I think I have rabbit fever?
Go to the clinic at the first sign of illness. Tell the doctor that you had contact with a sick-looking or dead wild animal. Be sure to let the doctor know if you are pregnant or have a weakened immune system.
How is rabbit fever treated?
Your doctor will most likely prescribe antibiotics, which must be taken as directed by your doctor to ensure the best possible result. Let your doctor know if you have any allergy to antibiotics.
Remember:
Although rabbit fever is a rare disease, the recent human case and 3 affected hares in Cote-Nord remind us that this disease is still very present in Quebec and that it is important to be careful and be aware of the risks of rabbit fever, especially when handling wild animals.
For questions regarding human health, we invite community members to contact their local CMC.
To learn more about rabbit fever and preventative measures:
Reggie Tomatuk
Environmental Health program officer
rtomatuk@ssss.gouv.qc.ca
Dr. Kianoush Deghani
Public Health & Preventive Medicine Specialist Physician
Kianoush.Dehghani@ssss.gouv.qc.ca
Téléphone: (514) 861-2352 extension 74237
Fax: (514) 861-5206
For information in French: Quebec Ministry of Forestry, Wildlife and Parks: http://www.mffp.gouv.qc.ca/faune/sante-maladies/tularemie.jsp