Program objectives
Improve chronic disease clinical outcomes by:    
Providing training to clinical health workers 
Standardizing clinical practice
Offering support in diabetes self-management 
Improving quality of care provided to Eeyouch living with chronic diseases 
 Why is this program important?
Chronic diseases are complex diseases that last lifelong and may progress with time. Examples of chronic diseases are diabetes, blood pressure, heart disease or cancer. They usually share several risk factors such as lack of physical activity, poor eating habits, smoking, or high alcohol consumption. These risk factors can be modified. 
There is a high prevalence of type 2 diabetes in Eeyou Istchee:
22% in Crees over 19 years old (CDIS 2012) 
3.5 times higher than the rest of Quebec
Increased fourfold between 1989 and 2009, in people over 19 years old 
Higher in women than men
Furthermore,
50% of new diagnostics are made before 40 years old
Crees of all ages are at risk
Preventing chronic diseases is our first priority. However, once a chronic disease has been diagnosed, its progression has to be avoided as much as possible to prevent complications. This is possible when close collaboration exists between the patient and his health care team. In a region where communities are spread out, it is crucial to standardize practices so all clinics in Eeyou Istchee will follow the same caring and preventing processes.
Program description
The program consists of several activities:
Train the Trainer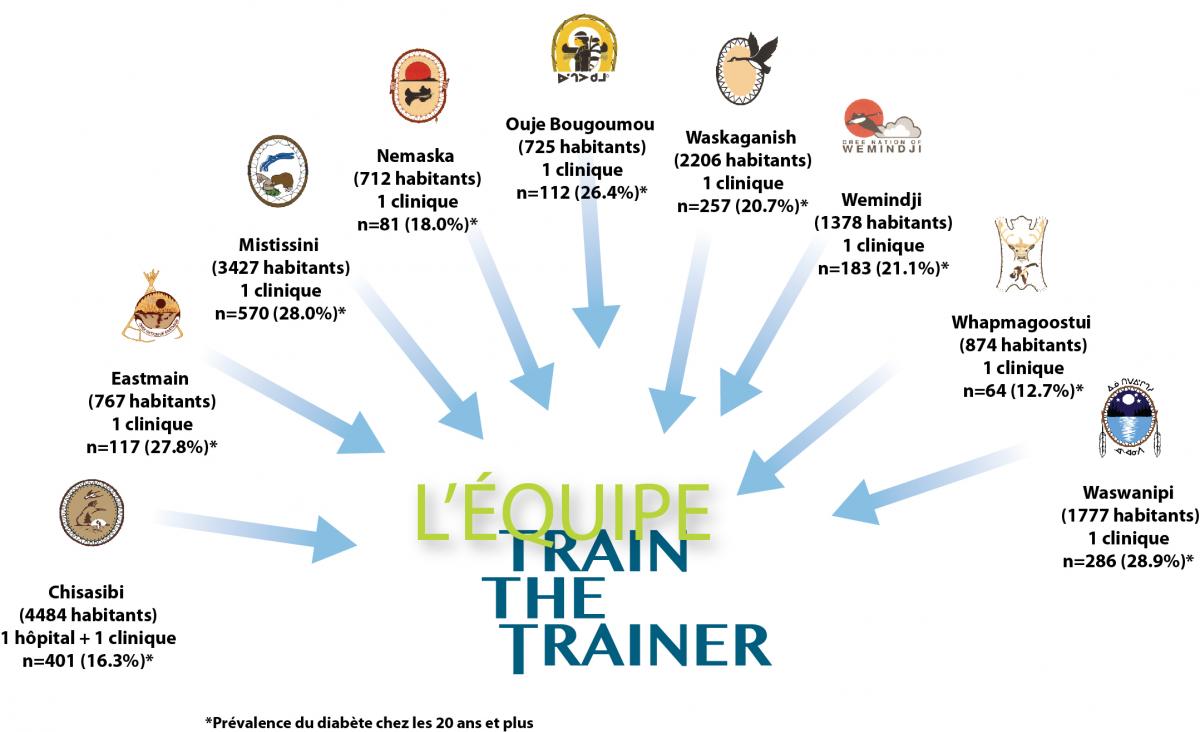 Train the Trainer is a training program aiming at increasing knowledge and skills in chronic disease care of the clinical health workers (nurses, nutritionists, community health representatives, doctors) dealing with Eeyouch with diabetes. The program serves to facilitate professional development within the local health team, to standardize care, and to ensure better retention of personnel. It consist of 4 core components: (1) theory to acquire/revise knowledge on diabetes management, (2) practice to develop/strengthen competencies, (3) telephone helplines to assist health care workers during business hours, and (4) culturally-adapted tools for health workers and clientele.
In order to provide training to local teams, the certified diabetes educators travel to each community. Frequency of the visits is at least once a year for one consecutive week. Visits are organized around the presence of permanent health workers, whose participation is totally voluntary.
Peer to peer support
Three-day diabetes camps are offered to individuals and their family, to enable them to come to terms with their diabetes, to learn basic principles of healthy living and apply those principles in link with their diabetes management, in a fun and practical way.
Traditional walking clubs are organized for youth upon demand.
CDIS (Cree Diabetes Information System)
The Cree Diabetes Information System was first developed as a regional surveillance tool. It then became part of the clinical system with focus on improvement of diabetes clinical management and quality assurance. The CDIS allows the clinical health workers to have on-line access to information on patients with diabetes and pre-diabetes via an interactive and user-friendly web-based program. 
Supporting the implementation of the CDIS as a clinical tool in each local clinic is important since the CDIS will facilitate adherence to the clinical guidelines on type 2 diabetes, identification of patients at high risk of diabetes-related complications, and regular follow-ups.
Evaluation/quality improvement activities 
Ongoing projects: 
Patient Partnership Approach to Diabetes Care in Eeyou Istchee: Identifying Barriers and Facilitators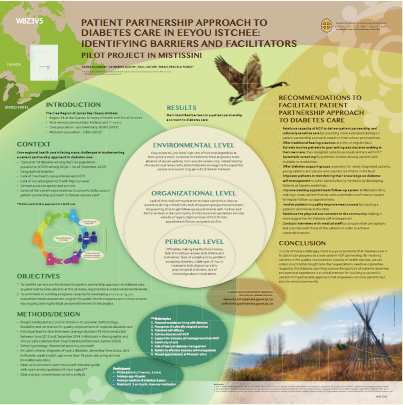 The project aims to identify barriers and facilitators for a patient partnership approach to diabetes care, as perceived by Cree patients at personal, organizational and environmental levels. It also contributes in building a regional capacity to develop and carry out evaluation/needs assessment projects for public health programs and clinical services. (download Patient partnership approach to diabetes care in Eeyou Istchee: Identifying barriers and facilitators poster)
Assessing Implementation of the TRAIN THE TRAINER Program 
The goal of this project is to evaluate the implementation of the four components of the Train the Trainer program, in order to assess if it is running as expected to achieve its operational objectives. 
Targeted clientele
The program is intended to all clinical health care workers involved in diabetes care in the region. It is also targeting Eeyouch from all age groups, since it supports not only clinical care but also chronic disease primary prevention. 
Who delivers the program? 
This program is part of the activities of the Chishaayiyuu Miyupimaatisiiun team from the Public Health Department of CBHSSJB, and is coordinated by:
Monique Laliberté
Nurse, Certified Diabetes Educator
monique.laliberte@ssss.gouv.qc.ca
Hélène Porada
Nutritionist, Certified Diabetes Educator
hporada@ssss.gouv.qc.ca
Roberta Petawabano
Nurse, Diabetes Educator
roberta.petawabano@ssss.gouv.qc.ca 
Catherine Godin
Nutritionist, Diabetes Training Agent
catherine.godin@ssss.gouv.qc.ca 
Jonathan Linton
CHR in Diabetes Prevention
jonathan.linton@ssss.gouv.qc.ca
Elena Kuzmina
Evaluation and Research Program Officer
elena.kuzmina@ssss.gouv.qc.ca
In collaboration with:
David Dannenbaum
Medical Advisor
ddannenbaum@ssss.gouv.qc.ca