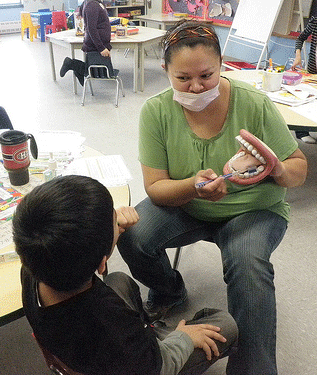 Program objectives
To decrease the number of tooth surfaces that are decayed, missing, or filled, among youth under 18 years of age.
To improve oral health habits among people of all ages
To reduce the prevalence of periodontal (gum and jaw) disease in adults
To improve access to oral health care in Eeyou Istchee by providing services that fit with Cree culture and realities.
Why this program?
Surveys show that tooth decay is very common in the region, very severe, and starts very young. Many toddlers already have tooth decay, and by age 11-12, 93% of Cree children have lasting damage to their permanent teeth.
Short description of program
The program offers a series of prevention activities to designed to keep tooth decay from happening in the first place. These activities include:
A "sealant" program given to schoolchildren; Sealants are plastic coverings placed on the surfaces of the back

teeth to keep them free from decay;
Individual assessments and follow-up of schoolchildren;
Promoting daily tooth-brushing sessions in schools and daycare centres;
Working through related Public Health programs to help parents to keep their children's teeth in good shape;
Providing instructions on oral hygiene and support for the Maternal and Child Health Program;
Providing advice on nutrition that will be part of the  Mashkûpimâtsît Awash program;
Providing fluoride therapy (fluoride varnish) in various settings;
Carrying out public-education on oral health (radio broadcasts, poster, etc).
Besides these prevention activities, the program tries to offer a smooth connection with the services that are offered at the dental clinic, and recommends improvements to the dental services in general, based on the latest research.
Targeted clientele
Parents of young children, parents to be, pregnant women
Children attending schools
Children attending daycare centres
Teachers and educators in daycare centres and schools
Health professionals (dentists, dental hygienists, CHRs)
Local administrators
Who delivers the program?
The Oral Health program comes under the Awash Miyupimaatissiun umbrella, and is coordinated by two people:
Dentist Advisor

Vacant
Brigitte Gionet
PPRO Dental health Awash
Public Health Department, Pimuhteheu
260 Main street, Mistissini, Qc G0W1C0
Office: 418 923-2204; 42366  Cell: 418 770-5488
brigitte.gionet@ssss.gouv.qc.ca