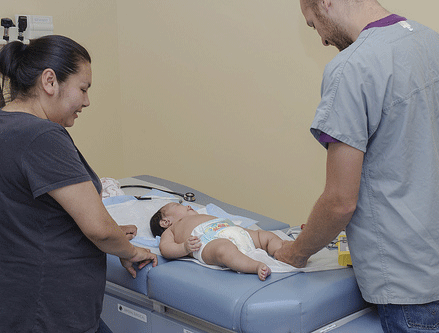 Program objectives
The Maternal and Child Health Program provides primary care to pre- and post-partum women and their families, with a focus on prevention. The program takes a holistic approach based on the philosophy of a balance between the physical, mental, emotional, and spiritual aspects of human life.
Why this program?
Maternal and Child Health services are fundamental to most Public Health programs. Such services are particularly important in Eeyou Istchee because of the high birth rate, the large proportion of teen mothers, and the higher rates of risk factors such as food insecurity, obesity and gestational diabetes, smoking, substance abuse, and low levels of formal education.
Short description of program
The program serves women throughout their pregnancy and beyond, offering pre- and post-natal follow-ups, access to medical care, advice on nutrition and weight, and support for breastfeeding. It also provides well-baby check-ups and vaccination. All these services are offered in a culturally appropriate manner. They also address the physical, mental, emotional and spiritual aspects of child development:
Physical: Safety and injury prevention in the home and information on environmental hazards such as tobacco smoke, mold, or contaminants;
Mental: Parenting skills and family support; Attention to children's cognitive and language development;
Emotional: Support for traditional activities, teachings, and medicines, so as to foster a strong sense of belonging to family, clan, nation and an awareness of connections to nature;
Spiritual: Using teaching materials that are translated into Cree, and encouraging mothers to follow traditional practices and ceremonies such as using traditional cradles and wraps, singing traditional songs, walking-out and  first snowshoe walk ceremonies, celebrating hunter's first kills,  and observing holidays such as Goose Break. The intent is to foster the child's connection to self, family, nation, land, animals, and the spirit world.
Targeted clientele
The main target group for this program is young families, with a focus on women throughout their pregnancy and perinatal period, on fathers and children from birth to age 9.
Who delivers the program?
The program is part of Awash Miyupimaatisiiun. It is coordinated by:
Cecilia Ariano, RN, BScN
Nurse Counselor Maternal and Child Health
Tel. 418 770-4566
Email: cecilia.ariano@ssss.gouv.qc.ca
Resources
Building a Healthy Baby Food Guide