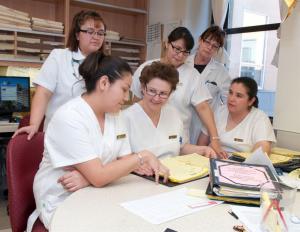 We are actively recruiting nurses. The CBHSSJB offers fantastic working conditions to nurses who are open to the challenge of the north. You must be dynamic, self-sufficient, team-spirited and open to the Cree culture and reality. Our ideal candidate will embrace the northern culture and natural environment, including our beautiful, snowy and cold winters! Learn more about Life in Eeyou Istchee.
The CBHSSJB is investing in preparing the way for the next generation of Cree nurses. Are you interested in becoming a nurse?
Benefits and incentives
Nurses employed by the CBHSSJB are members of the FIQ union. In addition to your salary we offer:
annual retention premium of $14,000
annual northern benefit between $5,338 and $15,250 depending on the community and whether you have dependents
extended role premium of at least $7,600 for nurses working in a Community Miyupimaatisiiun Centre (CMC)*
free, furnished housing
paid moving and storage costs
three or four annual paid round trips for you and your family to your original hiring location in Québec.
* A CMC is similar to a CSSS elsewhere in Québec. There is a CMC in each of the 9 communities of Eeyou Istchee.
 Essential requirements
Member of the Ordre des infirmières et infirmiers du Québec (OIIQ)
Minimum 1 year of diverse experience to work in Chisasibi Hospital
Minimum 2 years of diverse experience to work in a CMC
Good spoken and written English
Bachelor of Science in Nursing or Certificate in Community Health is an asset.
The CBHSSJB also has management, public health and services planning positions that require a nursing degree or where a nursing background is an asset.
Inquire through the Human Resources Department. Send your résumé to jobs.reg18@ssss.gouv.qc.ca or call 1-877-562-2733