Replacement dentists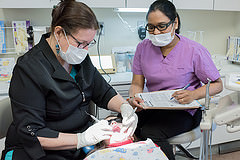 There is a complete dental clinic in each of the Cree communities of Eeyou Istchee.
The document below explains the procedure to follow for anyone interested in acting as a replacement dentist for the CBHSSJB. The form underneath must be filled out and returned, along with other documentation described in the Fiche d'information, and sent to the Chief of the Regional Department of Medicine for consideration.
Fiche d'information candidature dentiste remplaçant.pdf
Formulaire: Demande de nomination de médecin, dentiste ou pharmacien en C.H.
Where to send your completed application:
Dr. Lucie Papineau
Chief, Regional Department of Dentistry
CBHSSJB
Oujé-Bougoumou Healing Centre
PO Box 1170
Oujé-Bougoumou, QC  G0W 3C0
Email: lpapineau.reg18@ssss.gouv.qc.ca
Phone 1-418-745-3901, extension 229
Fax: 1-418-745-3043