Inauguration of Chairperson Bertie Wapachee
Description
ᐄᔨᔨᐅᔨᒧᐎᓐ | IIYIYIUYIMUWIN
CBHSSJB Chair Bertie Wapachee is interviewed by Joshua Loon on Miyupimaatisiiuun Tipaachimuwin
Summary
On November 27, 2020, Mr. Bertie Wapachee of the Cree Nation of Chisasibi was sworn in as Chairperson of the Cree Board of Health and Social Services of James Bay. The inauguration event took place in Chisasibi and was broadcast by livestream, regional radio and on local TV in Chisasibi.
Featured media
Image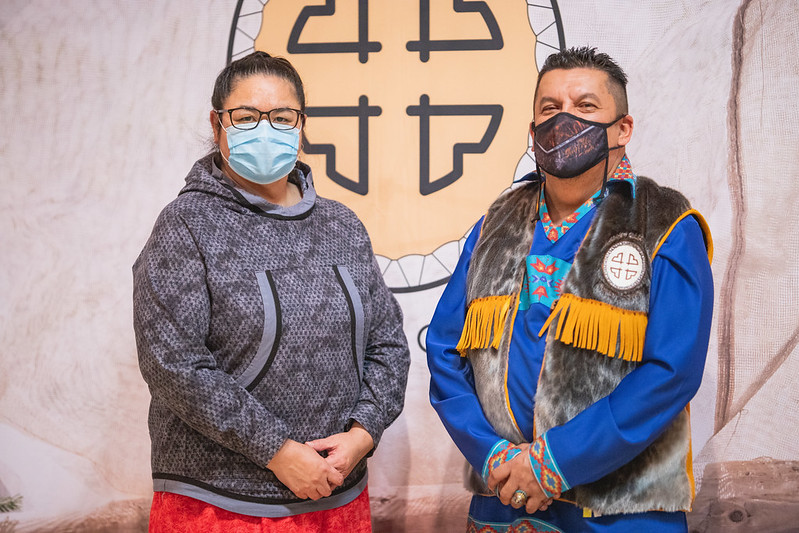 Content
In accordance with COVID-19 precautionary measures, the event was limited to 50 guests. There was a health screening for anyone coming into the building. Several disinfecting stations were placed in the venue. In order to make the event accessible for everyone in the territory who could not be there, the Cree Health Board collaborated with JBCCS to produce a livestream and regional radio broadcast. Chisasibi Singers opened the event with an honor song, which was followed by a prayer by Eliza Webb.
Mr. Wapachee is already well known in the Cree Nation.
His career highlights and extensive network were showcased in the speeches by Chief Daisy House, Grand Chief Abel Bosum and CBHSSJB Executive Director Daniel St-Amour.
In a short ceremony, Mr. Wapachee was sworn in by Ricky Lameboy, Commissioner of Oaths, and officially became the Chairperson of the CBHSSJB. To wish him strength in his new role, Nancy Snowboy and Stephanie Snowboy gifted him a vest made of sealskin and deer hide, embroidered with the logo of the CBHSSJB. Mr. Wapachee acknowledged the contributions of his predecessors including outgoing Chairperson Bella M. Petawabano.
We would like to thank JBCCS, the Cree Nation of Chisasibi and Chisasibi Youth Council and Thunder Lights & Sound for their contribution to a successful event.
A video of Mr. Wapachee's speech is available below.
Updated
December 17, 2020