"I've come to Chisasibi because the Canadian Medical Association is concerned with the factors that make people sick and the issues that cause unequal delivery of health care in Canada," said Dr. Anna Reid, President of the Canadian Medical Association (CMA), speaking to about 60 health care providers, community leaders and others gathered at Chisasibi's Elders' Camp. Her groundbreaking Chisasibi visit on June 11th marks the first time a president of the CMA, which represents Canada's 80,000 physicians, has visited Eeyou Istchee, and signifies a growing awareness of issues facing aboriginal and northern communities by the CMA and the medical community. Reid practices in Yellowknife, NWT, and is familiar with the challenges aboriginal people and their communities face. 
The event at the Elders' Camp blended aspects of traditional and contemporary Cree life: an information-sharing forum on health care issues framing a traditional feast of moose, goose, fish and bannock. But it wasn't planned that way. Mechanical difficulties imposed a six-hour delay on the flight carrying Reid as well as Laurent Marcoux, the Cree Health Board's director of Medical Affairs and Services and recently-appointed president of the Quebec Medical Association (QMA), Normand Laberge, QMA Executive Director, and Carole Deburggraeve, CMA Associate Director of Membership Engagement. As a result, Dr. Darlene Kitty and Cree Health Board chair Bella Petawabano, who hosted the event, abandoned the original schedule and condensed the forum with the feast. 
But while Dr. Reid did not take the full tour of Chisasibi and the hospital promised in her original itinerary, she did receive a comprehensive portrait of the challenges and successes in providing health and social services in Eeyou Istchee. The forum began with presentations by Daisy House, Deputy Chief of Chisasibi, and Reggie Bobbish, CRA Police Force Director, before breaking for a performance by traditional drumming ensemble Heart of the Land and the multi-course meal; presentations then resumed with further insights from social services coordinator Doris Bobbish, physicians Michael Lefson and Darlene Kitty, and Lisa Petagumskum, Assistant Executive Director of the Cree Health Board, and concluded with a brief comment by Dr. Laurent Marcoux, wearing both his CHB and QMA hats. 
The speakers stressed the interplay between social problems and health issues. Sixty percent of Chisasibi's population is under the age of 30 and the community faces a shortage of over 400 housing units, so many individuals and young families struggle to find a home. This leads to overcrowded housing, creating conditions that can fuel domestic and sexual abuse. Substance addiction and mental health issues are also part of this mix, and, as several speakers stressed, they require a coordinated response from community bodies.   
However, people are often reluctant to discuss problems, especially those rooted in dysfunctional or abusive family relationships. One answer to this, speakers noted, may be through the revival of traditional Cree life. "Our communities used to deal with their problems through traditional ceremonies, not through social services," said Lisa Petagumskum, noting the slow but sure revival of many traditional activities. "We need to re-create in our services the safety that people felt in those ceremonies."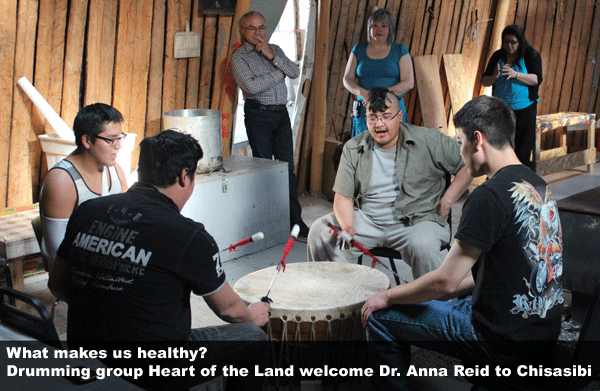 While challenges may seem daunting, forum participants expressed optimism. As Chisasibi Hospital physician Michael Lefson pointed out, there have been positive changes both in health care and community lifestyles. "You don't necessarily see the evolution over five years, but you do over ten or twenty years. We are behind where we need to be, but things have moved forward." 
The event also served as an opportunity to celebrate one significant step in the right direction: Dr. Laurent Marcoux, who has been involved with the Cree Health Board for many years, was named president of the Quebec Medical Association in April, raising the profile of Eeyou Istchee across Quebec. "We are challenged to integrate traditional ways of life with new or western ways. If we go too fast, we will erase what was here before," Dr. Marcoux said. "This Nation must conserve its identity in order to determine its future." His words reiterated a common theme from the forum: the need to bring the past and the future into harmony.
Dr. Reid's visit, and the election of Dr. Marcoux as President of the QMA, indicates that Eeyou Istchee has claimed a certain prominence in the offices of leading medical associations and among the physicians they represent. "I asked for this job as president of the CMA because I'm positive about making a change," said Dr. Reid as the event came to an end. "We'll take what you have told us to heart and do what we can to represent you." 
Only six weeks after the meeting, on July 30, the CMA released What Makes Us Sick, a report based on a series of meetings with citizens and health care providers across Canada, including discussion forums and meetings such as the one in Chisasibi. The report identifies social factors, especially poverty, as the leading cause of disease in Canada, and included among its twelve recommendations are two focusing specifically on the needs of aboriginal individuals and communities. One urges the federal government to develop and support a comprehensive and cooperative strategy to improve aboriginal health in Canada; the other proposes that educational initiatives in cross-cultural awareness be developed, especially for health care providers, to offer a fuller understanding of the health and social issues commonly facing First Nations, Inuit and Metis communities and individuals. What happens next remains to be seen, but Dr. Reid's historic visit has foregrounded the issues affecting First Nations communities both nationally and within the CMA. The impact of the meeting at the Chisasibi Elders' Camp may resonate for years to come.
Read the CMA report What Makes Us Sick here: http://www.cma.ca/to-improve-health-tackle-poverty