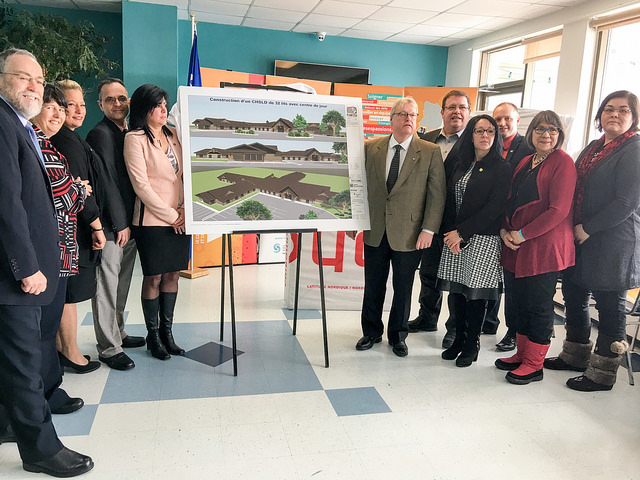 Today, the minister of Health and Social Services of Quebec, Gaetan Barrette, and the Ungava deputy, Jean Boucher, announced the Government of Quebec's plan to construct a new Residential and Long Term Care Centre (CHSLD) in Chibougamau, for the elderly in Chibougamau and Eeyou Istchee who are in need of assisted living.
The Centre is currently in the Chibougamau Hospital. A new building will be constructed across the street from the hospital, on a property facing Lake Gilman, and will expand from 24 to 32 beds. It will also include a day centre and modernized facilities. The new project was unveiled today at the current CHSLD, along with invited guests, including Bella M. Petawabano, the Chairperson of the Cree Board of Health and Social Services of James Bay.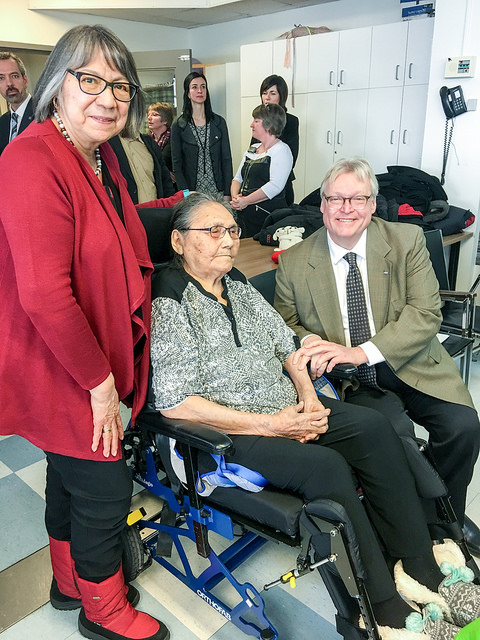 The new long term care centre will have more spacious rooms to accommodate family visits, and the staff will receive special training on the unique culture of our region and the needs of our Elders, since one-third of the Elders living in this centre are Eeyouch.
Over the next few years, there will be many improvements to the Chibougamau Hospital, and Chairperson Bella M. Petawabano welcomed the opportunity for collaboration, discussion, and planning together. During the unveiling, she described this facility as a valuable service we continue to use in order to help our Elders stay in long-term care on the territory:
"Although this project is not a Cree Health Board project, it is a resource and a service we are still using now and for the next few years. Our priority is still to have a long-term care centre for Elders in Eeyou Istchee and to make all services more accessible."
According to the projected timetable, work will start in March 2018 and will continue until the completion of construction in early 2019.