Nutrition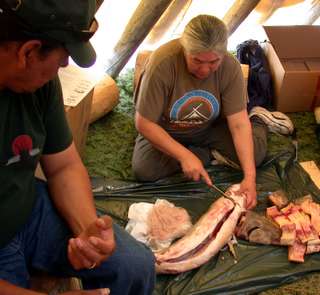 We can all make healthy choices every day, by choosing bush foods and healthy store bought foods.
See:
Resources
Building a Healthy Baby Food Guide
Community Stories
ᐋ ᑎᐹᒋᒧᓈᓂᐎᒡ
January 22 2020

Mi'kmaw chef Norma Condo's culinary career is soaring to new heights with her Montreal-based catering service. Her business, Miqmak Catering...

Read More

October 07 2019

Chisasibi (October 7, 2019) – Grand Chief Dr. Abel Bosum of the Grand Council of the Crees (Eeyou Istchee) / Cree Nation Government and Mrs. Bella...

Read More

September 11 2017

On August 26th 2017, the Chisasibi Run was back for the fourth consecutive year. The event brought together 232 runners and walkers of all ages,...

Read More
From The Library
ᒥᓯᓂᐦᐄᑭᓐᐦ
This fund exists to support local food security initiatives in Eeyou Istchee.

...

Health promotion poster for nutrition on Halloween.

Other pamphlets in this series: | Autres pamphlets dans la même série:
...
Featured Resources
ᐅᓭᕗᓪ ᓕᓐᒃᔅ