Maternal Health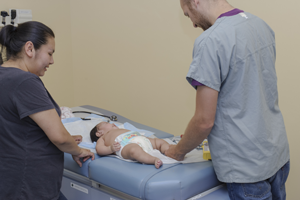 Maternal and child health aims to improve the global state of health of women and men looking to have a child.
Maternal Health covers all of the issues related to health and psychosocial behaviours among pregnant women, fathers, children and families, starting from pregnancy and over the course of the child's first years of life (0 to 6 years).
See:
Community Stories
ᐋ ᑎᐹᒋᒧᓈᓂᐎᒡ
September 04 2020

September 9th marks the 21st annual International Fetal Alcohol Spectrum Disorder (FASD) Awareness Day. The day was created on 9/9/99 by a small...

Read More

December 06 2019

To update their knowledge and keep their skills sharp, 120 extended role nurses from nine from Community Miyupimaatisiiuun Centres (local health...

Read More

October 07 2019

Chisasibi (October 7, 2019) – Grand Chief Dr. Abel Bosum of the Grand Council of the Crees (Eeyou Istchee) / Cree Nation Government and Mrs. Bella...

Read More
From The Library
ᒥᓯᓂᐦᐄᑭᓐᐦ
2017 calendar created for CBHSSJB employees, showing paydays/deadlines for submitting timesheets, and statutory holidays observed by the...

The Cree Board of Health and Social Services of James Bay and the Institut national de santé...

A report written by Melissa Johnson, MSc and Noreen Willows, PhD for Lucie Leclerc, Community Nutritionist, and the Research Committee...
Featured Resources
ᐅᓭᕗᓪ ᓕᓐᒃᔅ