Child Health
ᒦᐦᐧᑳᑎᓰᐤ ᐊᐧᐋᔥ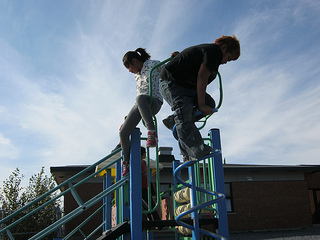 Rebuilding Cree health and well-being starts with children. Eeyou Istchee is getting younger with rising birth rates. From 2007 to 2011, the number of births in each community ranged from an average of 15 annually in Nemaska to 110 in Chisasibi, and the population is expected to grow by almost 2% annually for the next 20 years.
Addressing the needs of this young population is critical to the future. Currently two out of three children in Eeyou Istchee is overweight or obese, due primarily to unhealthy diet and lack of physical activity. Moreover, one in five adults in Eeyou Istchee has diabetes, and babies born to women who have gestational or type 2 diabetes face a higher chance of becoming obese during childhood and developing diabetes at a young age.
Children's health is also affected by social factors. Poor and insufficient housing leads to problems with mould and poor air quality that affect respiratory health, and other problems – social and physiological – can arise from overcrowding. Poverty also brings with it a number of well-documented negative health consequences.
The Cree Health Board is focusing on children's programs as a means of improving the overall health status of Cree in Eeyou Istchee. The Awash Team's programs support pregnant women and mothers, children from birth to nine years of age, and families. For instance, Maternal and Child Health Program's holistic approach to preventative health care addresses the needs of pregnant women, mothers and young children to ensure children get a good start in life. The  Mashkûpimâtsît Awâsh program, currently being introduced to communities across Eeyou Istchee, provides culturally appropriate services to individuals and families in the perinatal period and early childhood, and strives to create "family-friendly" communities that will nourish and sustain healthy children. Other programs provide counseling and support concerning prenatal nutrition, breastfeeding, preparing healthy baby food, and dental and oral health; a vaccination program offers infants and children protection against many infectious diseases. Children with special needs and their families are supported by programs and services provided by the Regional Special Needs Services, part of the CHB's Public Health Miyupimaatisiiun Group.
The Uschiniichisuu Team, often working in concert with the Cree School Board, supports youth between the ages of ten and 29 through programs aimed at developing healthy lifestyles and relationships. The school-based Chi kayeh program teaches youth about healthy relationships and respectful expressions of sexuality, and the Cree Health Board's Healthy Schools Project is working to integrate projects with the Cree School Board to support students. Other programs address the addiction issues and mental health concerns that can develop in this age range, and Youth Healing Services and the Youth Protection program provide aid and support to youth at risk.
See:
Family Group Conferences
Foster Parents
Special Needs Services
Youth Healing Services
Youth Protection
Yummy Iron-Rich Recipes
Community Stories
ᐋ ᑎᐹᒋᒧᓈᓂᐎᒡ
March 09 2020

On March 6, 2020, the Cree Board of Health and Social Services of James Bay and the Cree Nation Government inaugurated the new Youth Healing Services...

Read More

January 16 2020

On November 26– 29, 2019 the Department of Professional Services and Quality Assurance (DPSQA) – Psychosocial offered training to Cree Foster Care...

Read More

December 06 2019

To update their knowledge and keep their skills sharp, 120 extended role nurses from nine from Community Miyupimaatisiiuun Centres (local health...

Read More
From The Library
ᒥᓯᓂᐦᐄᑭᓐᐦ
8 posters created by Eeyou-Eenou youth as the result of a collaborative partnership between CBHSSJB's...

Agenda and minutes from Miiyupimaatisium Meeyochimoon (Healthly LIfestyle Network) meetings.

The present by-law establishes the general application framework of the guiding principles as set out in the Youth Protection Act. The purpose of...