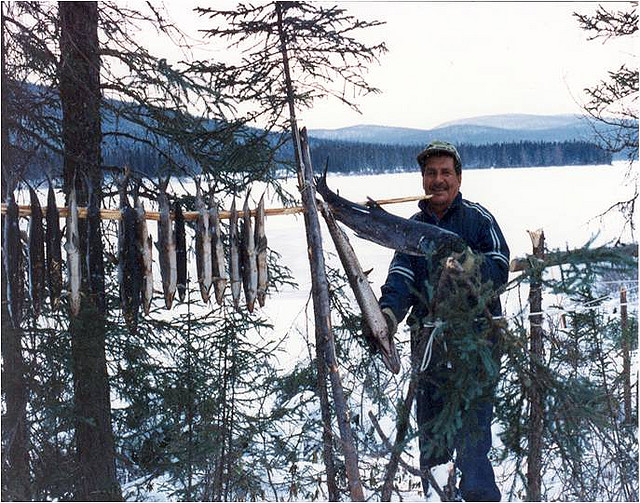 To maintain good health, the Regional Public Health Department encourages you to eat at least 2 portions of fish per week and be active every day.
Eating fish is excellent for your health. However, some precautions should be followed.
Women who are pregnant or may become pregnant soon, breastfeeding women and children should try not to eat high-mercury fish. We recommend eating 2 meals per week of low-mercury fish. Most store-bought canned and fresh fish are low in mercury. However, canned white tuna, fresh tuna, swordfish and shark should be avoided.
Download the Fish Facts for Families pamphlet. (PDF)
Download the Northern Fish Nutrition Guide. (PDF)
Download the map of Healthy Fish in Eeyou Istchee (PDF)
For a quick and easy way to see how much fish you can eat on your trapline, follow the link to Healthy Fish Eating in Eeyou Istchee and click on the map. Use the drop-down boxes on the top right to find your trapline. Beside each fish species, there is a coloured dot which shows how much of that kind of fish you can eat per month.
For more information:
Paul Meillon, Environmental Health Officer
1055 boulevard René Levesque East
6th floor
Montréal, Québec, H2L 4S5
Tel : 514-861-2352 ext. 73255
paul.meillon@ssss.gouv.qc.ca
Reggie Tomatuk
, Environmental Health Officer
Box 250, Chisasibi, Québec, J0M 1E0
Tel: 819-855-2744 ext. 22016
Cell: 418-770-9505
rtomatuk@ssss.gouv.qc.ca
Dr. Elizabeth Robinson
1055 Boulevard René-­Lévesque East
Montréal, Québec
6th Floor
H2L 4S5
Tel : 514-861-2352 ext. 74229
e_robinson@ssss.gouv.qc.ca