On November 1, 2017 a new Policy on Financial support to our clients will come into effect at CBHSSJB. This policy was adopted on March 31, 2017 by the CBHSSJB Board of Directors. Specifically, there will be changes to the rates used to compensate clients who have to leave their home communities for more than 3 weeks, for costs associated with accommodation and meals.
It is our goal to accompany all of our clients through this process of change with respect, fairness and empathy, as directed by our Board and in keeping with both the spirit and letter of the Code of Ethics and Users' Rights of the CBHSSJB.
Read the policy here (Policy on Long-term Financial Support.pdf) | Get info about the rates for meals and accommodations here (Annex 1 - Financial Support -Off-home community clients.pdf)
Here are answers to questions our clients might have about the new Policy in Financial support to long-term clients
When will the policy come into effect?
It comes into effect on November 1, 2017.
Who passed this policy?
The policy was passed by the CBHSSJB Board of Directors on March 31, 2017. The Board of Directors is composed of: the Chair/CRA Representative, the Executive Director of the CBHSSJB, 9 community representatives, 1 clinical staff representative, and 1 non-clinical staff representative.
What will change under the new policy?
The policy provides a range of accommodation and meal choices for clients and escorts. Changes will only affect you if you have chosen to arrange your own accommodations while out of your community.  For example, the new policy will not affect clients staying at the Espresso who use the meal tickets offered to them.
If you have chosen to arrange your own accommodations, your care plan will be reviewed with your CBHSSJB care team. The revised plan will identify the rate of financial support you will be entitled to as of September 1st 2017.
How do I know if I'm a 'long-term client'? 
You are a "long term client" if you are referred out of your home community for a stay expected to be longer than three weeks or if a stay that starts out short term becomes long term. Your individualized care plan (ICP), developed with your case manager and care team, will confirm the expectation that you will be required to be away from your community for over three weeks.
What is an Individualized Care Plan (ICP)?
It is a plan prepared by you and a CMC multi-disciplinary team. The plan identifies what services are required, which providers will be involved, and clinical strategies to support you.
Any referral out of your home community which is expected to last more than three weeks must have an ICP. The ICP must be signed by a CBHSSJB representative with the authority to do so. Who that person is depends on the condition for which you are being referred out of the community.
As a long-term client, what choices will I have for meals and accommodation?
a) You can choose to stay for free at a Wiichihiituwin facility (e.g., the Espresso Hotel) and get coupons for your meals.
b) You can choose to stay for free at a Wiichihiituwin facility (e.g., the Espresso Hotel) and prepare or purchase your own meals. You are eligible for meal allowances listed in the financial annex linked-to above. 
c) You can choose to stay with a friend, relative, or in a foster home. The meals and accommodation rates listed below would be paid directly to the host. 
d) You can choose to rent or lease your own lodging. Wiichihiituwin or Regional Special Needs Services can assist you to find lodging. Any rental or lease agreement would be between you and the landlord and you are responsible for any other expenses related to use of the lodging.
Here is a chart explaining monthly financial support (green is Cree Health Board Cree Non-Insured Health Benefits (CNIHB), red is what other First Nations receive from the federal Non-Insured Health Benefits (NIHB):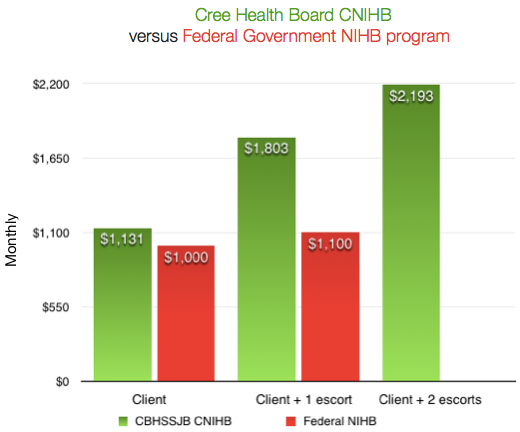 Is there any other support CBHSSJB offers?
The new policy is not designed as an income support program, which is not the CBHSSJB's mandate.  It is intended to provide a financial supplement to acknowledge additional costs (additional to community life in Eeyou Istchee).
Other kinds of support are available to persons requiring services during long term stays. In the case of special needs clients, there is a variety of federal and provincial benefits. Clients have been able to access occasional respite care - at least one has been able to make arrangements for adapted transportation through a community services organization.  The CBHSSJB is a support to clients and families, but they too are expected to do what they can to support their own needs. 
Do long-term clients have the choice to have escorts supported by the CBHSSJB?
Assuming you want an escort, and you meet the criteria, yes, the CBHSSJB will provide support for an escort. Clients may have the right to a maximum of two authorized escorts. The number of escorts will be determined by your ICP. Escorts may be required for the duration of the stay, or for travel purposes only. You are eligible for an escort if you: 
are under 18 years or over 64 years
are pregnant (currently, escorts can only be covered for 7 days)
are disabled
are on medication which may impact your daily functional capacity.
speak neither English nor French.
As a long-term client, are visits paid-for?
Visits can be, but they must be part of the care plan for costs to be reimbursed. Visits paid for by the Cree School Board (CSB) or another institutional source will be taken into account in assessing the number of visits to be supported by the CBHSSJB. 
The CBHSSJB will normally limit financial support for visits to a maximum of 5 days per stay and a maximum of 3 stays per year. In the absence of exceptional circumstances (as detailed in the care plan), the maximum number of family members the CBHSSJB will provide financial support for is 2. Families may choose to arrange privately to make additional visits and/or to include other family members at their own cost. 
Visits may vary in length, but parameters for financial support will always be detailed in the ICP. For example, a long term client whose care plan calls for them to eventually return to home community may, as part of their transition, return home for a temporary visit of up to two months. Since their accommodation will still be required upon their return from their home community, the long term financial supports may continue even though the client may not occupy their accommodation outside their home community during the duration of their visit. 
Note 1: Where a stay is expected to be short term, but it becomes clear a longer term stay will be required, the timing of transition to long term rates of financial support will be identified in the revised care plan.
Note 2: For short term visits to a client out of their home community, family members eligible for financial support shall be provided financial support at the Wiichihiituwin Patient Transportation Policy daily rates.
Other types of "visits" – e.g., access to elders - are not subject to this policy. They are considered a service, to be provided at the discretion of Community Miyupimaatisiiun Centre management. 
I'm a client and still have questions. Who can I ask to get more answers?
Emily Weistche, Administrative Technician at Wiichihiituwin
Phone: 514-989-1393 Ext. 73223
Email:  emily.weistche@ssss.gouv.qc.ca
Media Enquiries:
Katherine Morrow, Coordinator of Communications
Phone: 1-418-770-1444
Email: katherine.morrow@ssss.gouv.qc.ca