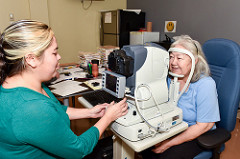 Cree Telehealth is the regional service within the Miyupimaatisiiun Department which takes care of the coordination, implementation and the delivery of Telehealth services.
What is Telehealth?
Telehealth is the use of technology to deliver medical services over a distance. Telehealth includes a growing variety of applications and services using two-way video, email, smart phones, wireless tools and other forms of telecommunications technology. In Eeyou Istchee, the distances are great and there is limited access to specialists like eye doctors, obstetricians, cardiologists, and psychiatrists. To access these services, patients are usually sent to a hospital in Val d'Or, Chibougamau or Montreal. By using technology to link the patient with the remote specialist, telehealth can reduce the need for patients to travel outside the region for diagnosis and treatment, and also reduce the need for medical specialists to travel to the north to see patients face to face. Telehealth has the potential to increase access to care, improve the quality of care, and save money and time for patients, their families, and the healthcare providers.
Ongoing Projects
The following services are already available in some communities, and are being developed in others.
Cree Telehealth in the News
Contact us
Contact the Cree Telehealth team to find out more about telehealth services being developed by the Cree Health Board.
The regional Telehealth project of the Cree Health Board is led by Dr. Laurent Marcoux, Director of Professional Services and Quality Assurance - Medicine.
Cree Telehealth - Clinical Coordination
Caroline Allard
Cree Patient Services, Val d'Or
Phone: (819) 825-5818 ext. 72057
Cree Telehealth - Operational Coordination
Philippe Lubino
Chisasibi Hospital
Phone: (819) 855-7440
Cree Telehealth - Administrative Technician
Cherubine Martin
Chisasibi Hospital
Phone: (819) 855-5674