Get help now: 1-855-753-2094

Robin's Nest is a partnership to create Women's Shelters for Eeyou and Eenou women 18 and over and their children who are experiencing domestic violence. The shelters are located in Waskaganish (opening soon - serving coastal Cree communities) and Waswanipi (serving inland communities).
Services Offered (starting December 18, 2017)
●    A safe and secure environment, 24/7
●    Emergency and crisis management
●    Culturally safe healing
●    Linkages with other available services in the region
What to do if you need shelter now:
Call the police or go to the Eeyou-Eenou Police Force (EEPF) station in your community. Click on your community to find the local emergency numbers.
Call or go to CMC (clinic) in your community and ask for immediate confidential help. Speak to any professional such as a CHR, Community Worker, nurse or doctor. Phone numbers for medical emergency are listed at the bottom of this page.
To get help for a child or youth in danger, call the confidential Youth Protection & Youth in Crisis Hotline 24/7 1-800-409-6884.
Milestones
The Robin's Nest women's shelters in Waskaganish and Waswanipi are under construction and opening in the winter of 2016-2017.
September, 2018 - Inauguration of Waskaganish Shelter
December 18, 2017 - Start of services in Waswanipi
September 25, 2017 - Inauguration in Waswanipi
June, 2016 - Logo Contest
April 12, 2016 - CBC Ceremony Held to Bless Future Site of Waskaganish Women's Shelter
November 3, 2015 - Blessing of the Ground Ceremony of the Waswanipi Women's Shelter
November 2, 2015 - Former CWEIA President to Lead Women's Shelter Project for CBHSSJB
August 5, 2015 - CBC Two New Women's Shelters to be Built in Eeyou Istchee
Partners
●    Cree Board of Health and Social Services of James Bay (CBHSSJB) (led by Miyupimaatisiuun Regional Services with support from Pimuhteheu Regional Department of Programming and Planning)
●    Cree Women of Eeyou Istchee Association (CWEIA)
●    Department of Justice and Correctional Services of the Cree Nation Government
●    Best practices working group (consists of local and regional Cree entities)
The Cree Nation Government is building the shelters, and the Cree Board of Health and Social Services of James Bay will operate and staff the shelters and deliver services to the clients. Culturally safe healing services are being developed with input from CWEIA.
Vision and Mission
Our vision: All women and children are safe from harm, live in an empowering and healthy environment and are respected by all.
Our mission is to deliver and provide healing methods based on Cree traditions and values, while respecting individual beliefs, for women and their children who are experiencing domestic violence "nanako akwiwaiisoon". We will offer options for reconciliation, rehabilitation and reintegration with the support, knowledge and wisdom of our communities.
The program name "Robin's Nest" derives from the Cree Legend of Ayaashaau that speaks of transformation, healing and reconciliation. (Coming soon: audio recording of the Legend of Ayaashaau.)
Coordinator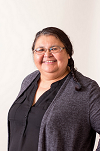 Emma Virginia Wabano of Waskaganish is the former President of CWEIA and is currently leading the development of the Robin's Nest project for the CBHSSJB. She is a strong believer in advocating for Native rights for a positive social, economic, cultural, and political well being of all Aboriginal peoples. On Twitter @virginiawabano
Contact
E. Virginia Wabano
Planning, Program, Research Officer (PPRO)
Cree Board of Health and Social Services of James Bay (CBHSSJB)
2 Kapatagan Meshanu Street, Waskaganish
Phone: (819) 895- 2126 #1542
e.virginia.wabano (a) ssss.gouv.qc.ca