Maternal Health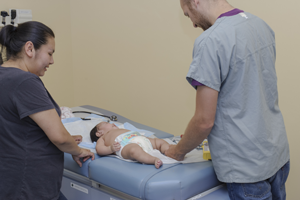 Maternal and child health aims to improve the global state of health of women and men looking to have a child.
Maternal Health covers all of the issues related to health and psychosocial behaviours among pregnant women, fathers, children and families, starting from pregnancy and over the course of the child's first years of life (0 to 6 years).
See:
Community Stories
ᐋ ᑎᐹᒋᒧᓈᓂᐎᒡ
June 20 2019

Since September 2018 in Chisasibi, healthy women having a normal pregnancy have had the choice to be followed by a midwife and give birth in the...

Read More

November 21 2018

Waskaganish, November 20, 2018 – The Piipiichaau Uchishtuun (Robin's Nest) Women's Shelter in Waskaganish was formally inaugurated at a ceremony on...

Read More

September 12 2018

On Friday, September 7, 2018, the Cree Board of Health and Social Services of James Bay hosted a Blessing Ceremony in Chisasibi to mark the...

Read More
From The Library
ᒥᓯᓂᐦᐄᑭᓐᐦ
2017 calendar created for CBHSSJB employees, showing paydays/deadlines for submitting timesheets, and statutory holidays observed by the...

The Cree Board of Health and Social Services of James Bay and the Institut national de santé...

A report written by Melissa Johnson, MSc and Noreen Willows, PhD for Lucie Leclerc, Community Nutritionist, and the Research Committee...
Featured Resources
ᐅᓭᕗᓪ ᓕᓐᒃᔅ