»
»
Communicable Disease/Infection
Communicable Disease/Infection
ᐅᑲᓇᐧᐁᔨᒧᐧᐁᐤ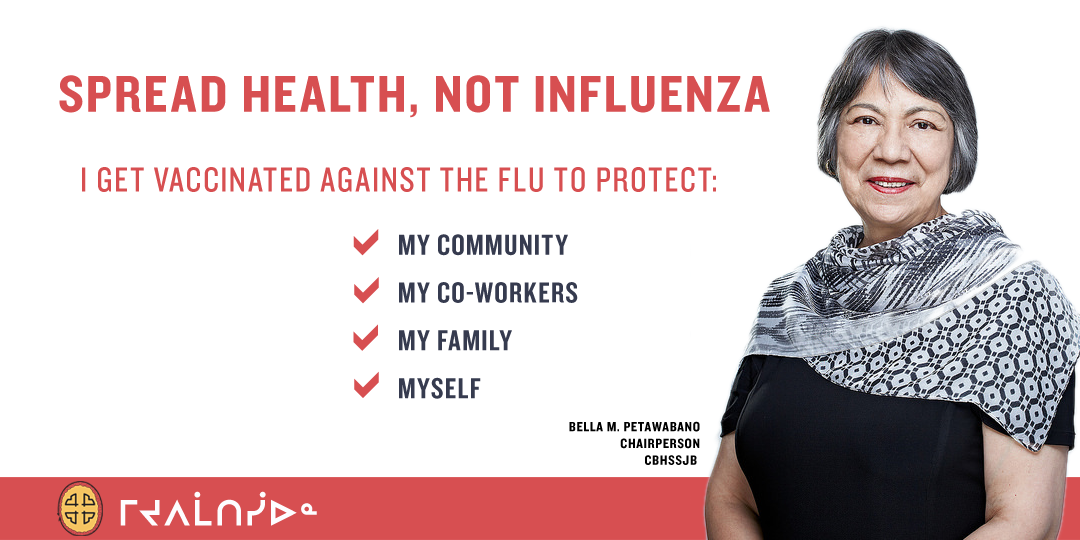 It's Flu Season
Visit your local clinic and get your free flu shot. Babies, elders and people with chronic diseases can suffer severe complications from the flu. By vaccinating yourself you are also protecting those around you. Since 2012, children 2 to 17 can receive the flu vaccine by nasal spray, not injection.
Vaccination: A good protection!
Vaccines stimulate our defense cells to produce substances called antibodies. These antibodies protect a vaccinated individual against disease caused by germs. Whether for you or your child, vaccination is your friend.
More info: http://sante.gouv.qc.ca/en/conseils-et-prevention/vaccination-contre-la-grippe/
See:
Vaccination and prevention of infectious diseases
Infection Prevention and Control Program
Community Stories
ᐋ ᑎᐹᒋᒧᓈᓂᐎᒡ
April 11 2016

Livestream event 5151866 or Listen on Regional Radio JBCCSRadio announcement about the Assembly by Chairperson Bella M. Petawabano (in Cree...

Read More

November 30 2015

This month Mrs Candy Gunner will do a tour of the nine communities to share her experience with this illness. These presentations will take place at...

Read More

June 12 2014

The Quebec Population Health Survey will be held in Eeyou Istchee in four stages over the next year, from June to March, and will ask questions on...

Read More
From The Library
ᒥᓯᓂᐦᐄᑭᓐᐦ
A series of posters in 13" x 19" and 11" x 17" formats produced for the 2017 influenza vaccination campaign.

Information poster to inform population about Quebec Vaccination Registry. Adapted from Outaouis poster.

11x17 posters produced for 2015 flu vaccination...